The Jacobin Books Series
Get Peter Frase's Four Futures: Life After Capitalism and five other books for $49.
Thank you, to the hundreds who subscribed to the first Jacobin book series, our collaboration with Verso Books. It was such a success, we're launching a new series today with the release of Four Futures: Life After Capitalism, by Jacobin editor Peter Frase.
Subscribe now to our second book series and get Four Futures, and the next five titles, for just $49.95 plus shipping. That's 50 percent off the cover price.
Subscriptions help ensure we can continue publishing books with important ideas for a wide audience.
We have some really great titles in the works, including: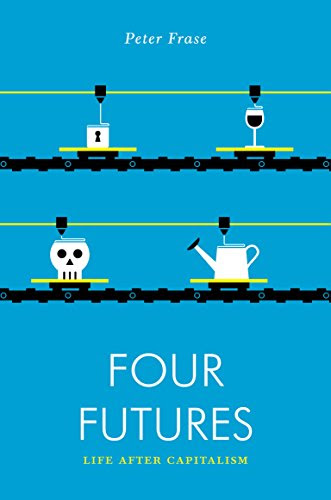 Four Futures: Life After Capitalism: Peter Frase imagines how this post-capitalist world might look, deploying the tools of both social science and speculative fiction to explore what communism, rentism, socialism and exterminism might actually entail.
"An exercise in public thinking as a political act, charting courses for movement-builders and citizens."
—Los Angeles Review of Books
The People's Republic of Walmart: Leigh Phillips and Michal Rozworski reintroduce economic planning, a forgotten lodestar for the Left and its vision of an alternative. The case for democratically organizing the economy in the interest of human need rather than in the interests of profit is as great as it ever has been.
And many more, including Donna Murch on the Black Panther Party and Sean Purdy on the rise and fall of the Brazilian Workers' Party.
Subscribe now to Jacobin's second book series and get all six titles for $49.95.